2019 Round-up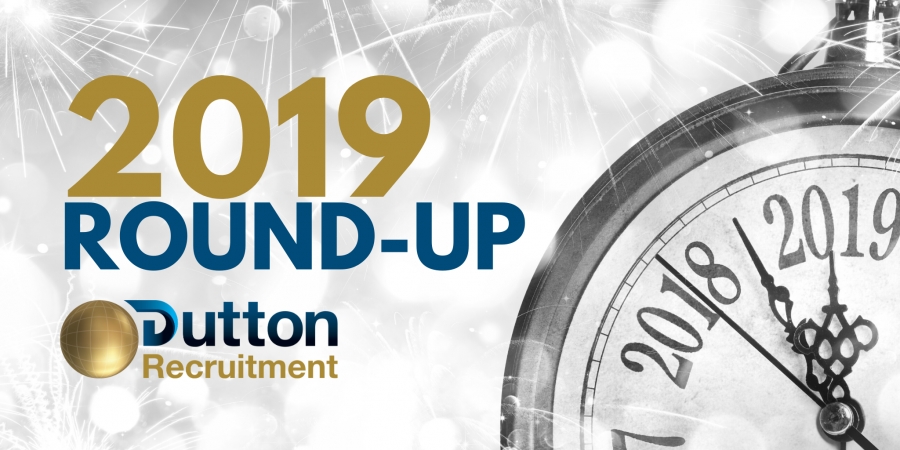 As the year comes to a close, we feel it's important to reflect. To look at 2019 in terms of the successes, the failures, and what we can learn.
Not only this, but we are also seeing the ending of a decade – being a company with heritage, this is getting us a bit nostalgic…
So, we sat down with our CEO Adam Sheekey for a roundup. Here's what was said…
---
2019 is coming to a close – how did 2019-Dutton compare to 2009-Dutton?
Good question! The last decade has brought a lot of changes.
I've got less hair. That's an easy one.
Otherwise, Dutton has rapidly expanded in this time (which has helped with the hair-loss) both in terms of sectors and locations.
We have also established our permanent recruitment offering, expanding the sectors for this also.
We now have a fully functioning internal Marketing Team, dedicated staff in Compliance and Training, and have more operational branches both in the UK and Europe.
The past decade has been a great one, and with new opportunities attracts new talent. But it's rewarding to see many of the same faces still here alongside the new recruits!
Amazing! Okay, here's a tough one… how does it compare to 1999-Dutton?
Wow, that's a real throw-back.
Well, for a start, we were still under the ownership of Harry Dutton back then!
Dutton was also not as diverse as it is now… we were pretty much exclusively a Northern business, operating in the Engineering sector.
I then joined the business a year later, which signalled the expansion into the South and the Building Services area.
Let's look to the more recent past then – what has been your highlight of 2019?
This year has been amazing for us as a business, so this is a very tough question to answer.
I think my answer here is twofold…
Firstly, to see our 2018 growth increased further – being even more profitable – shows the extremely hard work of our staff paying off. As the CEO, that has been amazing.
But also, to see our growth recognised externally and by the wider industry feels great. Award-nominations, brand awareness… even the passing comments! It is amazing to be seen as the leading recruiter I know we are.
A pretty good year then! But what about your biggest challenge?
As a business grows, longevity rests on whether the employees can grow with it. This includes the leadership.
As CEO this is a constant challenge for me – I took over almost 4 years ago and the business has changed hugely since then. So, this means I have to change with it, and grow as we grow.
This leads to a lot of pressure, and stress, but it is certainly worth it.
In terms of the wider industry – what do you think has been the biggest development in recruitment this past year?
I guess the obvious answer here would be technology…
But actually, I believe it is the growing importance of diversification. Being able to offer a specialist service, in a diverse range of areas, is paramount to success in the current climate.
Solidifying our permanent staffing solution with investment has helped Dutton respond to that trend definitely.
Looking ahead now, what are your hopes for Dutton in 2020?
The great thing is that some of the biggest things in 2019, have been plans for 2020! This makes the coming year very exciting, as these plans materialise.
We have also been in positive discussions with businesses Worldwide to provide staff, and infrastructure is in place for further diversification of our offering!
On top of all this, we will also be looking to utilise technology further in our business… possibly in the form of a Dutton Recruitment App… but that's all I'll say for now...
How exciting. Is there anything else you would like to add?
I would like to wish all of our amazing candidates and clients a lovely Christmas and New Year, and a very successful 2020. They make what we do worth it, and it's a pleasure to work with them all.
Also, of course, a huge thank you to all of the Dutton Recruitment staff for their dedication, and belief in what we are doing.
And lastly, to you guys, for not asking me about Brexit as I have had that question every day throughout 2019!